Economic headwinds: Media and entertainment
ARTICLE | September 26, 2022
Authored by RSM US LLP
The last several years have been a rollercoaster for the media industry. The 2020 pandemic lockdowns led consumers to shift from spending on experiences outside of their houses to spending money predominantly on at-home entertainment. That said, the trend quickly reversed when the economy reopened, as consumers started spending less time at home and began consuming media and entertainment at theaters and live venues again. Some believe that we are now in another recessionary period for the media sector, given that inflation levels are at record highs and consumers have reduced their discretionary spending.
In 2022, the media industry as a whole has performed significantly worse than the overall market; as of Aug. 31, 2022, the S&P 500 Media & Entertainment Index was down 33.87% compared to the S&P 500, which itself was down 17.02% on a year-to-date basis, according to Bloomberg.
The top challenge for the media industry in a slowing economy is revenue
Media companies' top-line revenue is decreasing as consumer habits shift, while bottom-line costs are increasing based on content costs.
Companies are dependent on advertising for a substantial portion of their revenue. For example, large TV conglomerates depend on ads for 30% to 40% of their revenues, making them highly vulnerable in an economic recession. Typically, advertising spending is one of the first things that companies reduce during downturns; however, this year may still have some increase in ad spend due to the upcoming political campaigns for the midterm elections. That said, media companies are battling a content war, with high competition and the continuous need for new, high-quality entertainment which is accompanied by significant costs.
Estimated 2022 content spending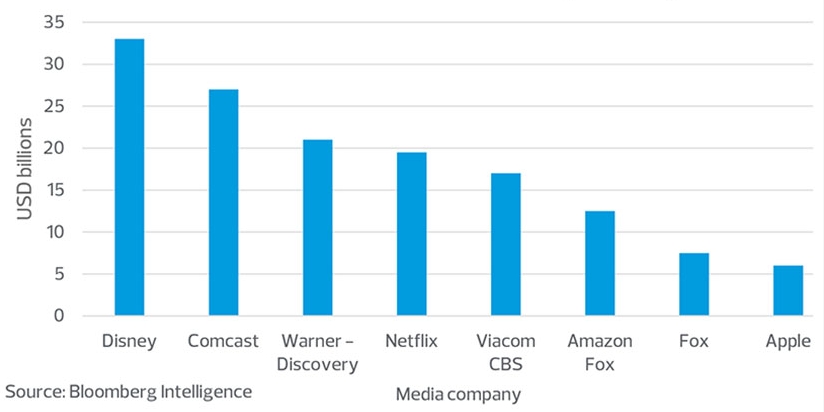 From a consumer angle, inflation is hurting discretionary spending; consumers have less to spend on entertainment since the cost of necessities is increasing. As people assess their budgets, some consumers are reducing the number of services they are subscribed to, causing higher churn for the companies.
Other media industry challenges include saturation and customer churn
Saturation in the media industry is making it harder for companies to grow user counts, especially in the streaming sector which is also being affected by inflation. As consumer spending gets squeezed by inflation, streaming subscribers are becoming more and more fickle. Consumers are faced with more platform choices than ever and are making more deliberate decisions to cancel existing subscriptions when they start new ones. This means subscription platforms need to plan for increased customer churn and lower retention. 
Let's Talk!
Call us at +1 213.873.1700, email us at solutions@vasquezcpa.com or fill out the form below and we'll contact you to discuss your specific situation.
RSM US Alliance provides its members with access to resources of RSM US LLP. RSM US Alliance member firms are separate and independent businesses and legal entities that are responsible for their own acts and omissions, and each is separate and independent from RSM US LLP. RSM US LLP is the U.S. member firm of RSM International, a global network of independent audit, tax, and consulting firms. Members of RSM US Alliance have access to RSM International resources through RSM US LLP but are not member firms of RSM International. Visit rsmus.com/about us for more information regarding RSM US LLP and RSM International. The RSM logo is used under license by RSM US LLP. RSM US Alliance products and services are proprietary to RSM US LLP.
​Vasquez & Company LLP is a proud member of the RSM US Alliance, a premier affiliation of independent accounting and consulting firms in the United States. RSM US Alliance provides our firm with access to resources of RSM US LLP, the leading provider of audit, tax and consulting services focused on the middle market. RSM US LLP is a licensed CPA firm and the U.S. member of RSM International, a global network of independent audit, tax and consulting firms with more than 43,000 people in over 120 countries.
Our membership in RSM US Alliance has elevated our capabilities in the marketplace, helping to differentiate our firm from the competition while allowing us to maintain our independence and entrepreneurial culture. We have access to a valuable peer network of like-sized firms as well as a broad range of tools, expertise and technical resources.
For more information on how ​Vasquez & Company LLP can assist you, please call +1 213.873.1700.
Subscribe to receive important updates from our Insights and Resources.