Leveraging technology to enhance profitability and contract performance
ARTICLE | March 17, 2023
Authored by RSM US LLP
Operating in the life sciences industry can bring a variety of challenges around the visibility and management of chargebacks, rebates, fees, accruals, returns and gross-to-net. However, life sciences companies can leverage emerging technology applications to address these challenges and take operational efficiency and profit protection to the next level.
As a leading provider of contract management services in the life sciences industry, RSM has developed a revenue contract management (RCM) solution for Microsoft Dynamics 365. The RCM application pulls data from multiple external solutions, consolidates it into the Dynamics 365 Finance and Supply Chain Management system, and provides advanced analytics capabilities.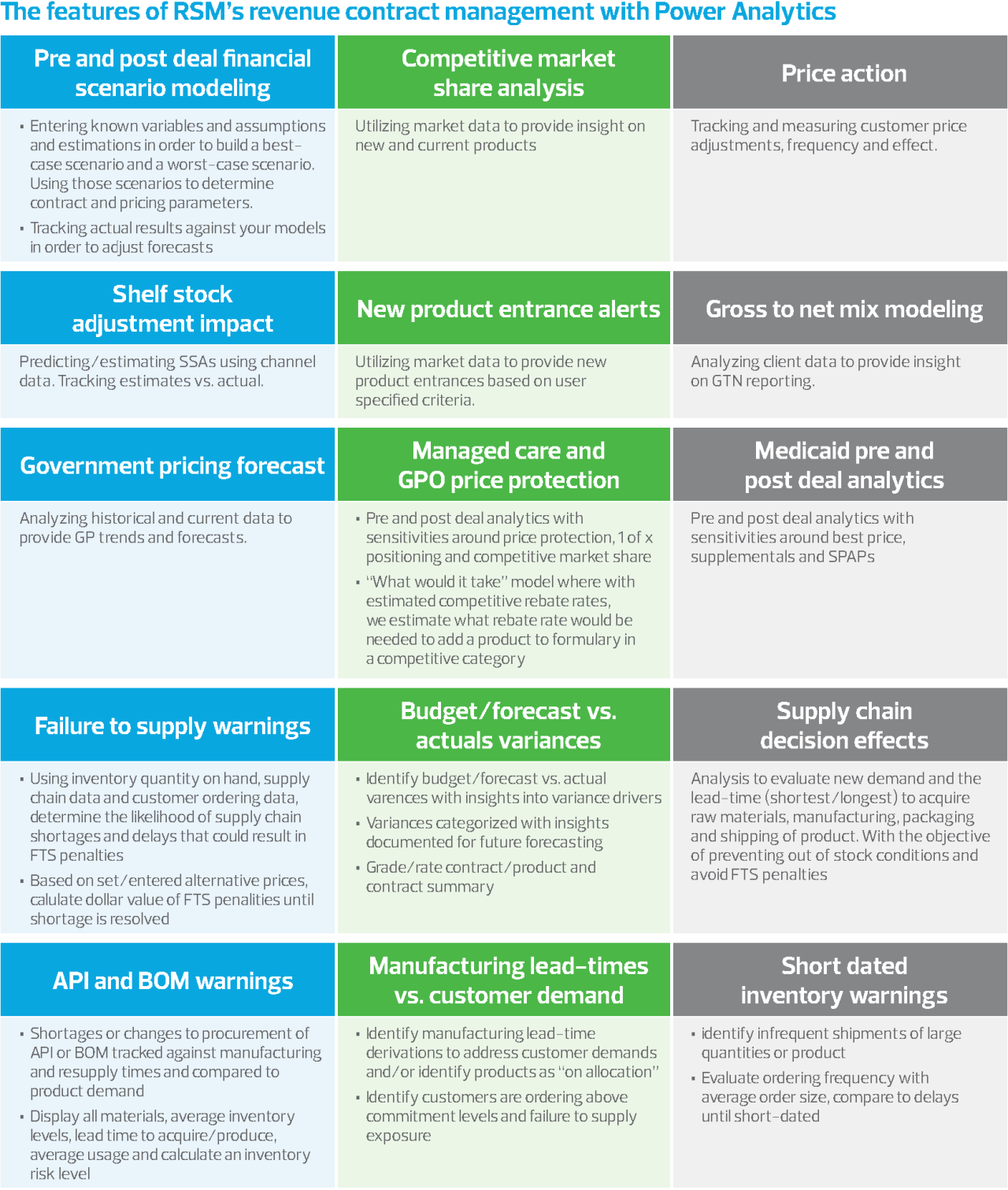 The RCM application increases the transparency of your market and product data, enhancing your ability to react to market dynamics to optimize pricing.
Why work with RSM?
We built our life sciences practice with a clear understanding of the challenges in a demanding market.  From preclinical through commercialization, RSM works with clients throughout their business journey.
In addition, our industry advisors have proven experience delivering Microsoft technology solutions to biotechnology, pharmaceutical and medical device companies. Through our longstanding partnership with Microsoft, RSM combines the most innovative technologies with our up-to-date industry knowledge to help life sciences companies achieve operational efficiency.
RSM has implemented Microsoft applications for more than 35 years, with over 950 consultants serving more than 2,000 clients across the United States. As a Microsoft Gold Partner, RSM is the trusted advisor to middle market companies for the evaluation, selection, implementation and support of their Microsoft investment. We have more than 100 offices across North America and a global network of certified professionals with deep experience in Microsoft solutions.
Whether you are raising capital, addressing pricing pressures or prioritizing development efforts, RSM's life sciences practice helps you meet your business challenges head-on.
Let's Talk!
Call us at +1 213.873.1700, email us at solutions@vasquezcpa.com or fill out the form below and we'll contact you to discuss your specific situation.
RSM US Alliance provides its members with access to resources of RSM US LLP. RSM US Alliance member firms are separate and independent businesses and legal entities that are responsible for their own acts and omissions, and each is separate and independent from RSM US LLP. RSM US LLP is the U.S. member firm of RSM International, a global network of independent audit, tax, and consulting firms. Members of RSM US Alliance have access to RSM International resources through RSM US LLP but are not member firms of RSM International. Visit rsmus.com/about us for more information regarding RSM US LLP and RSM International. The RSM logo is used under license by RSM US LLP. RSM US Alliance products and services are proprietary to RSM US LLP.
​Vasquez & Company LLP is a proud member of the RSM US Alliance, a premier affiliation of independent accounting and consulting firms in the United States. RSM US Alliance provides our firm with access to resources of RSM US LLP, the leading provider of audit, tax and consulting services focused on the middle market. RSM US LLP is a licensed CPA firm and the U.S. member of RSM International, a global network of independent audit, tax and consulting firms with more than 43,000 people in over 120 countries.
Our membership in RSM US Alliance has elevated our capabilities in the marketplace, helping to differentiate our firm from the competition while allowing us to maintain our independence and entrepreneurial culture. We have access to a valuable peer network of like-sized firms as well as a broad range of tools, expertise and technical resources.
For more information on how ​Vasquez & Company LLP can assist you, please call +1 213.873.1700.
Subscribe to receive important updates from our Insights and Resources.